Customer Reviews
Write a Review
Ask a Question
02 September 2021
Sir L.

United States
Excellent men's bracelet
Others have commented that the beads have a rough, unfinished look w/ a matte surface and that they're not shiny. However, I like that look. It looks, shall we say, more masculine and rough-hewn. The bullet-clasp is a strong magnet. I bought both the turquoise and the tiger eye and stack them together on the same wrist which gives it more visual interest and greater heft. Altogether it's a great, fun item. My only beef is not with the merchandise but with the shipping cost, which amounted to an additional 20% of the purchase price. C'mon Mr. Petermann, we're in the era of free shipping for many items, how can you get away with this??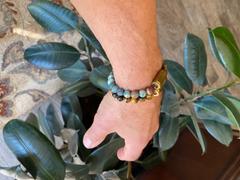 12 August 2021
Edward M.

United States
Mediore Beads Dull the Bracelet's Effect!
I had expected the beads to be somewhat polished &/or glossy(silly me). They are dull & irregularly-shaped! Also, the blurb said the item was going to be on a "stretchable" band, but it's actually controlled by a magnet in the clasp. I'm a little disappointed....