Back East Herringbone Shacket - Tall
Regular price
$249.00
$69.50
Details
Back East Herringbone Shacket- Tall
Shirt. Jacket. Shacket. Unlined and easy to throw on over a sweater, shirt, or t-shirt. Two chest pockets, and front handwarmer pockets. Two interior pockets. Shirttail hem. Under the hood, meaning inside, you'll find exemplary workmanship. Machine washable. Classic fit. Poly/rayon/wool. Machine wash. Imported.
Also available: Back East Herringbone Shacket
Customer Reviews
Write a Review
Ask a Question
27 February 2022
John D.

United States
Just received it, but I'm impressed.
I ordered the XXL tall, I'm 6' 5" almost 300 lbs. It fits great, the sleeves are long enough and there enough room through the chest and shoulders to wear over a light sweater. The jacket is un-lined, but all the seams were nicely finished. The fabric is soft and looked as expected based on the website photos. Even the basic shipping was fast. So far, I'm impressed.
04 February 2022
Christopher C.

United States
A genuine winner for both style and comfort!
I recently bought another of these excellent and innovative garments. I now have two of them that are perfect for just about every use conceivable. The 'Tweed-like' blended material, with its classic herringbone pattern, useful pockets and perfectly comfortable fit, is ideal for just about any occasion. As an outer layer it has the warmth and substance that is needed for three-season wear, and for kicking back casually at home you can't do much better! The 'Herringbone Shacket' is so perfect that I find myself wearing mine almost every day (alternating between the two I have). Interestingly, I found that despite the washing instructions that specify 'cold wash cycle' and 'delicate dryer setting', I can safely cheat a bit by giving them a final 30 minute dryer setting on 'warm' without shrinking the material! Still a perfect fit after this sort of treatment! I'd buy a couple more of them, so highly do I regard the Herringbone Shacket, but unfortunately supplies seem to be limited in the LRG/TALL size, due to popularity of this item. I hope TERRITORY AHEAD will continue to offer this product in future! As a final benefit, every day I get compliments from friends and associates about the style of this shirt!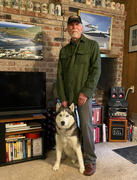 07 January 2022
John H.

United States
Talk means TALL
I thought a"tall" size would be better for me because I am fairly large guy. But the sleeves covered my hands. I ordered this item on November 11th and it didn't come until December 10. When I saw that it was too big, I returned it the same day for a regular (xx large size) and that was also too long in the sleeve length (my sleeve length is 34"). I retuned that one also one in exchange for size XL regular. It has not yet arrived.
05 January 2022
Suzanne T.

United States
Where is my shacket?
I sent it in for exchange, as directed, but I have heard nor seen the shacket! I emailed you last week to help me out, but have heard nada.
21 November 2021
Christopher C.

United States
The Back East Herringbone Shacket's appeal grows on you!
This shirt-jacket immediately drew me to it! I love herringbone fabric and ordered the olive color in a large tall size (I'm 6 feet tall and weight 160 pounds and it fits perfectly, with a generous roominess that is functionally ideal). Although I am used to all-wool herringbone fabrics, this clever wool/polyester blend update of the WW2 'CPO' shirt IS most impressive, with its excellent hand-warmer pockets (a real asset on cold days at home, as well as outside) and bilateral, buttoned chest pockets. Furthermore, it is truly warm! It didn't take me more than a few days to start using mine EVERY day! I may order more of these in the different available colors (brown, blue and gray) to suit my mood! The quality of fabrication is also excellent. Territory Ahead has a genuine WINNER in this item and judging from how fast stocks are depleted, others seem to feel the same way! Perfect either for yourself or as a holiday gift! It definitely keeps the chill off as an outer layer and also draws compliments as readily as great Canadian or Vermont maple syrup does on pancakes, but don't take my word for it! Test-wear the 'shacket' yourself before they're all gone! For what it's worth, my lead musher also approves of it!